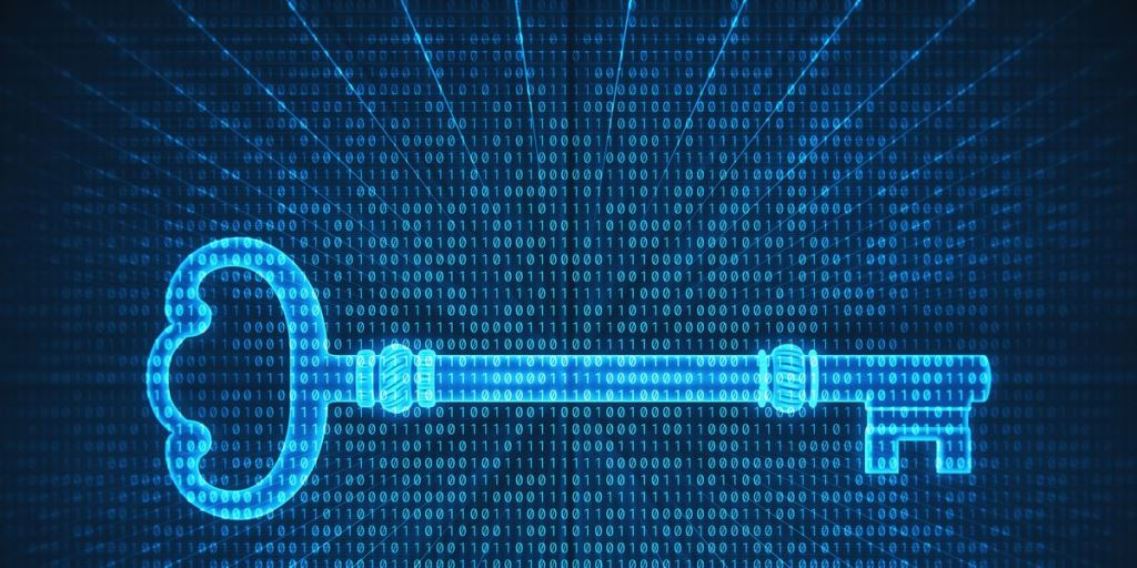 Cryptocurrency Wallets and Exchanges 2023
Cryptocurrency Wallets and Exchanges: How Do They Work?
A cryptocurrency exchange is a platform that helps a user buy and sell tokens.
If the talk around and about cryptocurrency has encouraged you to venture into the digital token market, it is important that you understand the different components.
And before you dive into this ecosystem, make sure you know enough about what makes the world of digital tokens work, where they are stored, and how safe they are. And when we talk about cryptocurrency storage, two important but different components come to mind. Cryptocurrency wallets and cryptocurrency exchange.
Cryptocurrency wallets:
Just as you don't always have your money on hand and instead store it in your wallet, a cryptocurrency wallet is similar in many ways. It stores your digital tokens and keeps them safe just like your bank keeps your savings safe. Furthermore, a cryptocurrency wallet also facilitates the sending and receiving of digital currencies. Since cryptocurrencies are not tangible or in a physical form, these wallets store them and a user or owner of the wallet can use them according to their needs.
There is another important aspect of your cryptocurrency wallet and that is the keys. Your wallet has private and public keys that help you control and operate your cryptocurrency wallet. Private keys help you sign a transaction, which means they are similar to passwords when it comes to spending your digital tokens. And that's why you need to make sure they stay safe. If someone has access to your private keys, you risk losing all your balance.
Public keys, on the other hand, act similar to your username on a payment app and help you receive crypto tokens from other users.
Cryptocurrency exchanges:
As the name suggests, a cryptocurrency exchange is a platform that helps a user buy and sell tokens. The exchange can be accessed over the internet as well as through an app. Not only does this make it easier to buy and sell crypto tokens, but it also allows you to convert your fiat money into digital tokens of your choice. 
The main difference between a cryptocurrency wallet and an exchange is that the former purpose is mainly for storage while the latter facilitates transactions as well as converting currency to cash and vice-versa.
How to Choose and Create a Cryptocurrency Wallet
If you are starting to buy cryptocurrencies, you will need a cryptocurrency wallet. It will allow you to store your cryptocurrency, but also to send it, receive it, buy it or sell it. However, you will find several types and you may have some difficulty finding your way around and making your choice.
The different types of online cryptocurrency wallets
Before choosing your cryptocurrency wallet, you need to determine the type of wallet you want to use. There are several of them, all with their own characteristics and advantages.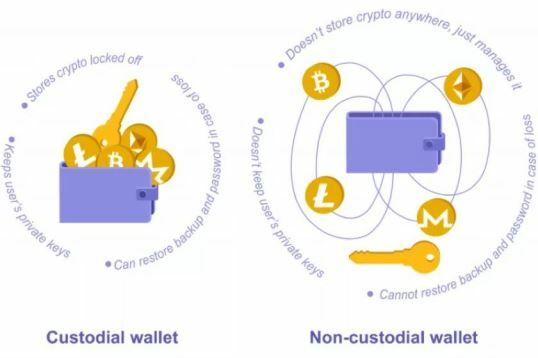 The first type of cryptocurrency wallet we are going to see is one found on a cryptocurrency trading platform. These platforms, such as Coinbase, therefore allow you to trade different crypto-currencies but also to take advantage of a portfolio. These are very easy-to-use wallets.
They are installed automatically when creating your account and you just have to go to your cryptocurrency wallet to be able to instantly generate a new address. Supported cryptocurrencies differ by platform. Do not hesitate to consult the crypto-currencies available on each interface before creating an account.
You will find multi-coins wallets. They are versatile wallets that allow the use of multiple cryptocurrencies. Although they are a little more complex to use than the platform wallets, they are still more complete and practical to use than the simple cryptocurrency wallets that we will describe to you later. If you use multiple cryptocurrencies and aren't necessarily new to cryptocurrency, this could be the perfect cryptocurrency wallet for you. Among the most used multi-coins wallets you will find Jaxx.
Finally, you will find many cryptocurrency wallets valid for a single currency. Although they are less complete than the other types of portfolio, they will allow you to have many advantages. The most important is increased completeness compared to the various multi-purpose wallets. For example, you will have the official wallets of each cryptocurrency.
Once you have decided on the type of cryptocurrency wallet you want, all you have to do is choose a wallet. We, therefore, present to you the portfolios that we find most interesting in each category. Of course, this is not an exhaustive list, since there are too many online wallets and we only want to offer you the best.
Cryptocurrency Trading Platform Wallets
In this category, you will find a large number of platforms, including…
Coinbase
The Coinbase platform is the benchmark for cryptocurrency trading platforms. It is indeed an interface that allows you to easily trade the most popular cryptocurrencies such as Bitcoin or Litecoin. It's exactly the same with his cryptocurrency wallet which shouldn't give you the slightest problem. Indeed, your wallet will be installed by default and you will simply have to generate an address to create a new one. However, your identity will need to be validated before you can generate new addresses.
BitBay
The BitBay interface also offers many options since you will be able to trade a large number of cryptocurrencies on a very secure system. You will indeed have two means of protection with a password required when connecting but also with two-factor authentication which will offer you second protection.
So you can store your cryptocurrency without worrying about its security. This is a good thing since you can then take advantage of BitBay's very good cryptocurrency wallet, which perfectly combines efficiency and simplicity: your wallet will be automatically available and you will only have to click on a button to generate a new address…
The advantages of the BitBay wallet
Just like Coinbase, BitBay has a complete platform that allows you to buy and sell a large number of cryptocurrencies, but also to store, receive and send them thanks to its integrated wallet. Plus, you can enjoy great security, including enabling two-factor authentication. But its main advantage is certainly its simplicity, which makes it a very good choice for people who are new to cryptocurrency and who do not want to bother with using several cryptocurrency wallets.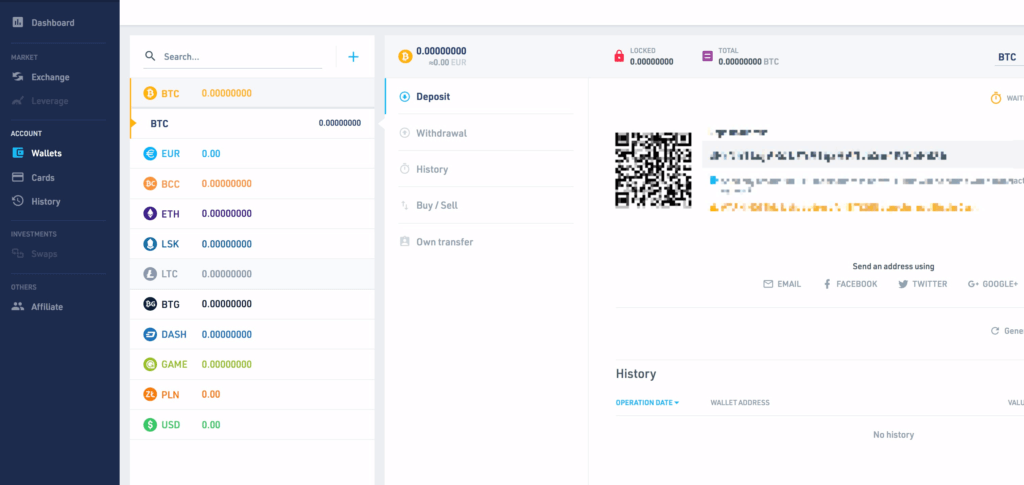 Binance
Binance is another very efficient exchange, but it is somewhat different than the previous two in that it only offers cryptocurrency exchange, so you will not be able to buy or sell crypto. currency for real money. However, its cryptocurrency wallet is just as interesting as that of the other two platforms since you will be able to use it in a simple way. It will indeed be installed when you create your account and all you have to do is click on a button to generate a new address.
Cryptocurrencies Multi-Wallets
These multi-coins wallets are very interesting because they offer many options while being versatile. Here are our favorites:
Jaxx cryptocurrency wallet
Jaxx is a cryptocurrency wallet that will allow you to receive, send and receive your cryptocurrency in a simple way while enjoying many options. For example, you can choose whether or not you want to download the blockchain, enjoy an attractive and simplified blockchain, and many other options. You will also be able to use it both on your computer and on your mobile phone, which makes it possible to enjoy your cryptocurrency wherever you are.
Coinomi cryptocurrency wallet
The Coinomi wallet works in the same way as Jaxx since it will allow you to receive and send your different cryptocurrencies. It is, however, a cryptocurrency wallet that emphasizes security since your private key will be encrypted and stored on your computer. It also has a smooth and intuitive interface that will allow you to enjoy easy navigation.
Simple Cryptocurrencies Wallets
These are cryptocurrency wallets that will only allow you to store one cryptocurrency. But they are very complete since you can, for example, download the entire blockchain. 
These are usually the official cryptocurrency wallets, which ensures that you have a simple wallet. To find the official wallet of the cryptocurrency you want to use, simply download it from the official website of the cryptocurrency in question. However, if you want to use many different cryptocurrencies, this type of wallet is not recommended since it will require you to install a lot of software.
What you must remember
Before choosing your cryptocurrency wallet, you need to determine the type of wallet you want to use.
You can choose between a platform wallet, a simple wallet or a multi-wallet wallet.
Online Cryptocurrency Wallets: The different types
Before getting an online cryptocurrency wallet, you need to define what type of wallet you want. There are indeed several kinds. Here are their main characteristics…
You will find regular online wallets that only allow you to receive, send and store your cryptocurrency. This online software will not allow you to buy or sell cryptocurrencies. However, they have another major advantage since they are much more secure, in particular, because you can generate your own private keys. They are also a bit complex to use, so they won't be suitable for people who are new to cryptocurrency. Among the many classic online cryptocurrency wallets available, we advise you to use Electrum, which remains the simplest and lightest of all.
You will also find more versatile platforms such as Coinbase, BitBay, or Binance which will allow you to do a lot more things. Not only can you use the cryptocurrency wallet available on the platform, but you can also perform cryptocurrency transactions. However, they are less secure.
This is why we advise you to do your best to optimize the security of your account, in particular by choosing a complex password and opting for second security.
How to Get an Online Cryptocurrency Wallet
If you opt for a classic online cryptocurrency wallet, you have to register and download it. However, some software can be quite heavy since it contains the entire blockchain. For the installation, you will simply have to follow the different installation steps.
However, once this is complete, you will need to generate an address to be able to receive, send and store your cryptocurrency.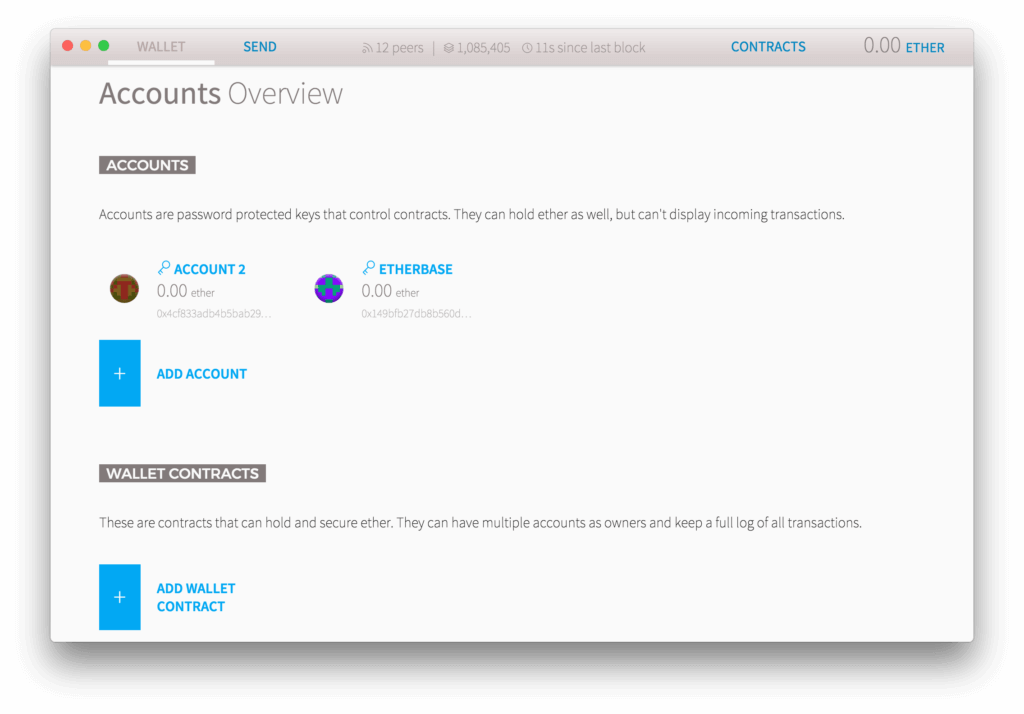 If you use a versatile platform such as Coinbase, BitBay, or Binance, all you need to do is register on the interface in question before validating your account and having your identity verified. 
Once it's done, all you have to do is go to your profile to generate a new wallet address. As with the online wallet, you must keep this address to store your cryptocurrency as well as for your various transactions.
Some interesting features
However, some online cryptocurrency wallets offer features that can add real value. For example, many online wallets offer a mobile version so you can use it on the go. However, smartphone apps are generally not as secure as the desktop version.
We, therefore, advise you to use this option only for small sums. Another interesting possibility is the integrated exchange service which will allow you to easily exchange your cryptocurrencies.
What you must remember
Before getting an online wallet, you need to choose the type of wallet you want.
It's quite simple to set up and operate, especially if you're using a general-purpose platform.
Remember to take a look at the different functions available on certain wallets.
Advantages and disadvantages of online and offline cryptocurrency wallets
You just got a cryptocurrency wallet, but you don't know how to use it and, above all, whether you should utilize it online or offline. We will therefore clearly explain the advantages and disadvantages of each method.
How does it work?
Choosing between an online or offline cryptocurrency wallet will significantly depend on how you plan to use your cryptocurrency. If you want to keep your cryptocurrency, you might prefer offline use while if you transact regularly, you might prefer to use it online.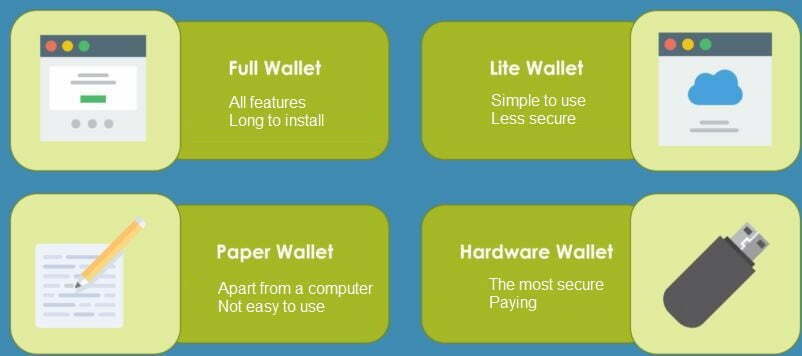 However, whatever your choice, we advise you to book a computer that will only be used for transactions and storage of your cryptocurrency. For online use, you will also need to fully secure access to your wallet. With this in mind, the two-factor authentication option is a very interesting protection solution. When it comes to offline use, you can do it in two ways:
you can store your cryptocurrencies on a computer that is not connected to the Internet, knowing that the day you want to use them, you just have to connect it with an Ethernet cable;
you can also store them on a removable disk. However, this removable disk must be perfectly secure. To do this, it is possible to use the Ledger Wallet Bitcoin wallet.
The pros and cons of an online cryptocurrency wallet
An online cryptocurrency wallet has several advantages. It is indeed a simple and practical way to store your crypto-currency since you will simply have to connect to it to access it and enjoy it. But you also need to make sure your account is secure. However, be reassured: you will have all the necessary tools.
But we still advise you to create a complex password and use two-factor authentication. Finally, since it is the platform that hosts your wallet responsible for storing your cryptocurrency, in the event of a problem, you can count on its help. However, we recommend that you do not let too large sums sleep on your wallet.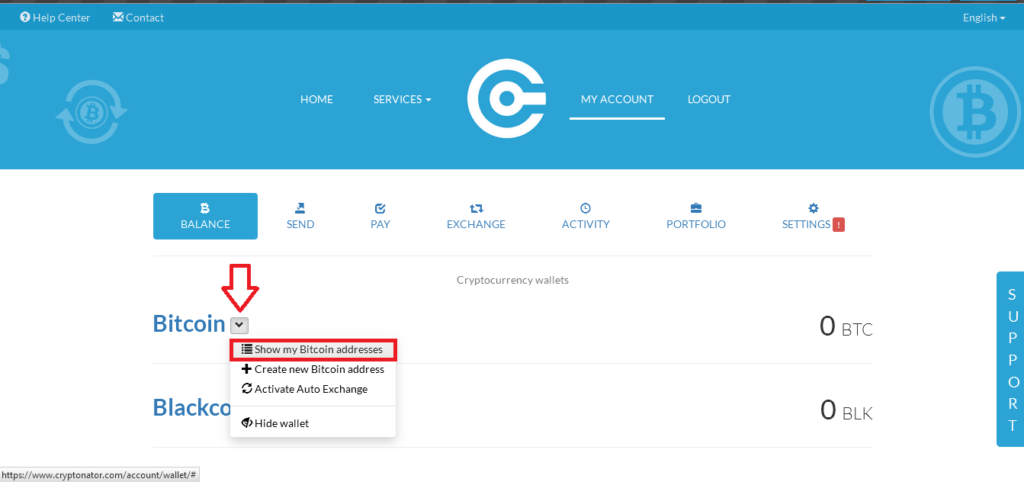 The pros and cons of an offline cryptocurrency wallet
Using a cryptocurrency wallet will mainly appeal to people who want to buy a cryptocurrency and want to trade cryptocurrency for the long term. It is a much more secure method than online since your data will not be on the Web.
However, this is not necessarily a practical or useful technique if you make regular transactions. Moreover, the loss of your data would simply be catastrophic since your cryptocurrency would simply be lost. So, if you opt for this solution, we advise you to make a copy that you will keep preciously. But this alternative is really ideal for anyone who just wants to hold some cryptocurrency, especially if it's a large sum.
What you must remember
The benefits of each of these two types of cryptocurrencies depend on your usage.
An online wallet will be more suitable for regular use and small amounts.
However, if you only use your wallet to store cryptocurrency or with large amounts of cryptocurrency, using an online wallet is more appropriate.
Top 10 wallets to secure your cryptocurrencies
In addition to the problem of choosing your crypto-currencies, investing in this sector raises the question of the best method to secure your coins. Cold wallet, paper wallet, online wallet, PC or smartphone application… each solution has its advantages and disadvantages. Here are our top wallets to secure your crypto-currencies among these different options.

1. Ledger Nano S
Should we still present the Ledger Nano S, a cold wallet so sought after that it is currently out of stock at the manufacturer? This small device, which slips easily into your pocket, can store more than twenty crypto-currencies, the list of which is growing every month. Among the most popular cryptocurrencies that are supported by the Nano are Bitcoin, Bitcoin Cash, Ethereum, Dash, Litecoin, etc. All ERC20 tokens on the Ethereum network can also be kept safe on this physical wallet via MyEtherWallet.
In particular, you can buy the Ledger Nano S on Amazon. A small tip if it is out of stock: if you are the owner of at least 10,000 REBL, you can order one via the Rebellious.io site.
2. Trezor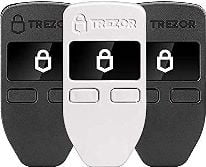 Trezor is a solution similar to Nano S. The technical principle is the same, the keys are encrypted on the device, so it is impossible for a hacker to know them. This type of solution is so safe that you can use it even on an infected computer. What if the device fails? No worries, thanks to your restore keys you can recover all your parts via another device. If you own cryptocurrencies that represent substantial amounts, such an investment is highly recommended.
3. Coinbase Online Cryptocurrency Wallet
Not everyone invests large amounts in cryptocurrencies. Small investors for whom the purchase of a cold cryptocurrency wallet is not justified and who do not want to take the lead with the configuration of a PC or smartphone client can very well consider leaving their coins on a flat – form of exchange. But in this case, you have to choose it carefully. The recent news of the theft of NEMs on Coincheck reminds us of this once again.
This is why Coinbase is a solution of choice for those who wish to use an online cryptocurrency wallet, even if the offer is limited to 4 major cryptocurrencies (BTC, LTC, BCH, and ETH). The strengths of Coinbase? Its seniority has enabled it to gain the confidence of investors.
The Benefits of the Coinbase Cryptocurrency Wallet
Its main advantage is undoubtedly to be part of one of the most recognized platforms for the purchase of cryptocurrencies. So, just like its selling platform, Coinbase's wallet is very reliable, simple, and intuitive. In addition, it is perfectly adapted to companies and duly secured thanks to its two-factor identification. Another of its big advantages is to offer two types of wallets. The first is basic and aimed at beginners while the second offers many more options for more advanced users. For example, it offers a multi-signature system which will be very popular with companies.
4. Binance as an Online Cryptocurrency Wallet
While Binance is still a very young platform in the cryptocurrency universe, it already has a high degree of trust among investors. Its safety record is currently perfect. It remains to be seen, however, in the long term whether the rising exchange will continue its flawless performance.
Another strength of Binance is the wealth of supported cryptocurrencies. You can easily store Cardano, Stellar, Iota, and things you didn't even know existed.
The Benefits of Binance Cryptocurrency Wallet
Binance also offers a complete interface that will allow you to take advantage of an exchange platform and a wallet. It is also very easy to use since it will only take a few clicks to configure it. It can also store a large number of cryptocurrencies, making it the perfect choice if you are new to cryptocurrency and want to try out different cryptocurrencies.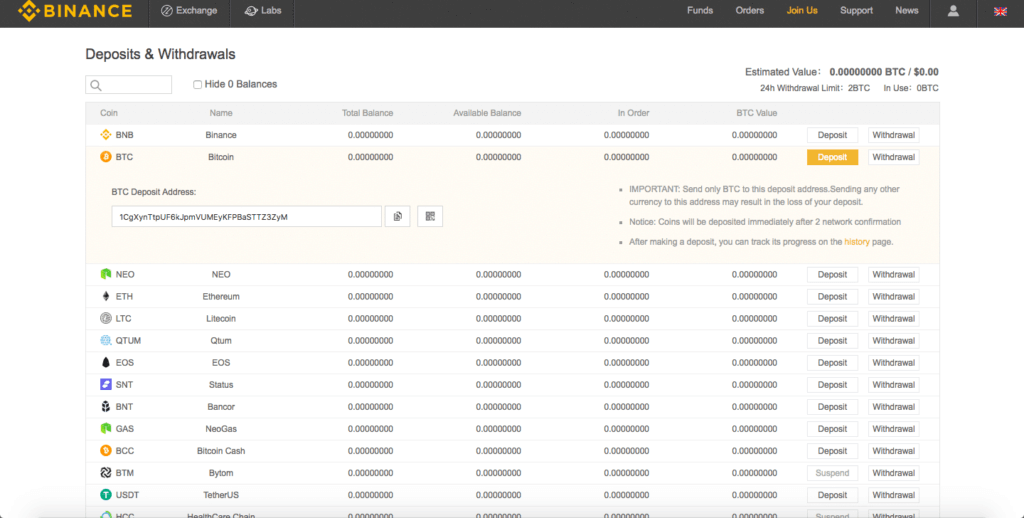 5. Kraken, the untouched platform to date
Kraken has been heavily criticized in recent weeks for numerous stability issues with its platform. Things have since returned to normal, so that calm has returned. Users are therefore starting to highlight Kraken's strengths again instead of mentioning the famous "error 520", namely its flawless security.
Since its creation (2012), Kraken has never been hacked. "  Past performance is no guarantee of future performance  ", this popular phrase in finance also applies to the IT security sector. Nevertheless, Kraken's immaculate record in this area, over 6 years, inspires confidence. You can therefore store a limited amount of BTC, Stellar, Ethereum, EOS, or Iconomi there without worrying too much.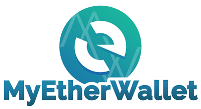 6. MyEtherWallet (MEW) for Ethereum and ERC20 tokens
If MyEtherWallet.com is accessible via a website, make no mistake, it is indeed a client-like interface. To put it simply, the site does not store any data concerning your Ethereum wallet, it simply provides your computer with a code that runs on it and allows access to your ETH wallet via a private key, a file JSON, etc.
No security problem has been identified to date with this solution, unlike the Parity wallet. It allows you to manage your ETH, but also the myriad of ERC20 tokens whose family is growing day by day. When such a token is not in the list, all you have to do is add it with the option provided for this purpose, indicating the address of the contract, the currency code, and the number of decimal places.
MEW for intimates has an option to configure the price of gas to be used. A handy link to Eth Gas Station is present to know the minimum price of gas to use to pass a transaction on the Ethereum network without worry.
7. Exodus, a good option for beginners
Exodus is a wallet for PC, Mac, or Linux that is characterized by its great ease of use and its support for a significant number of crypto-currencies. For a beginner who would be intimidated by installing a wallet on their computer, this is the perfect solution for holding Bitcoins, Ethereum, Dash, or other things like EOS.
One of the great assets of Exodus is that it integrates an exchange solution: you can directly from your wallet exchange a crypto-currency that you own against another that is supported. For example, exchanging Litecoins for EOS. You won't get the best rate on the market. On the other hand, it is ideal for making a purchase very quickly, without the hassle.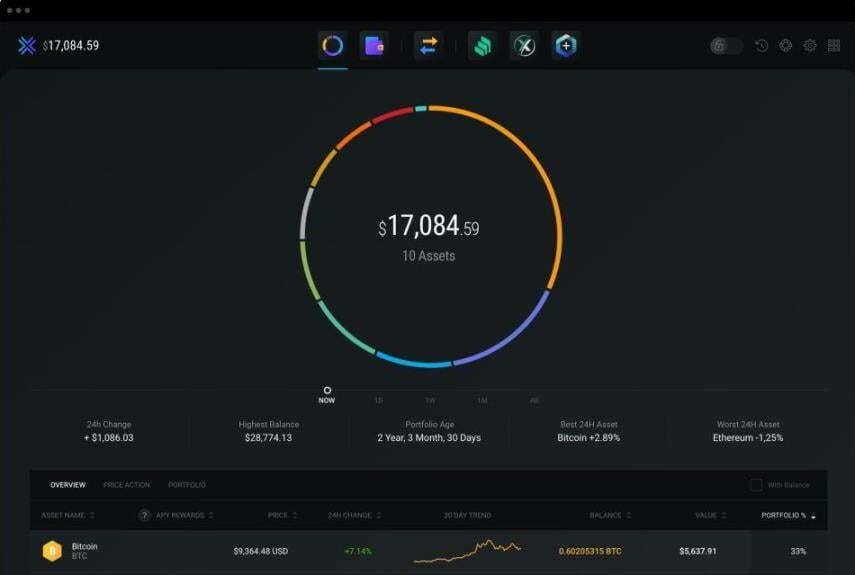 8. Coinomi, a super-practical wallet for Smartphones
Are you looking for an Android phone wallet (soon Apple) that supports many coins? In this case, we advise you to take an interest in Coinomi, which was the first multi-crypto wallet for Android. It integrates the most popular cryptocurrencies, but also things like Auroracoin, Bata, Stratis, Vertcoin, Verge… the list is impressive. 
Like Exodus, you have the ability to trade your cryptocurrencies through the built-in Shapelift and Changelly services. It's probably not the best option for storing large amounts of cryptocurrencies, unless you have a mobile device that isn't really, namely, that you keep at home. But for storing small amounts in alternative currencies, Coinomi is perfect.
9. Official wallets
In terms of security, official cryptocurrency wallets are unquestionably the best, just behind cold wallets. Unfortunately, many of them require the full blockchain to be downloaded, which makes them extremely cumbersome. Unless you have a "light" option, this alternative will therefore be reserved for investors who are particularly concerned about the security of their crypto assets.
10. The paper cryptocurrency wallets, the "cold storage of the poor"
Are you typically what is known in the industry as a HODLER, an investor who plays for the long term and who does not intend to touch his Bitcoins, Ethereum, or other for months or years? A paper wallet is a self-respecting option. Behind this term hides a childish principle: whatever the currency, you do not keep your keys on a computer or a device, you simply print them on several pieces of paper which you keep (very) preciously while waiting for the explosion of the value of the cryptocurrency in which you have invested.
Depending on the type of cryptocurrency, the paper wallet can take different forms. Some apps allow you to create one, but be careful about trusted sites or programs. Check twice rather than once that there is nothing wrong before using such services (age of the solution, source of the download, etc.).
Why take a cryptocurrency wallet on a platform?
When you start using cryptocurrency, you must have a space to store, send, and receive your cryptocurrencies. This is why you absolutely need a wallet. There are several types of cryptocurrency wallets. If you are new to cryptocurrencies, we advise you to opt for a wallet included on a platform.
Although these cryptocurrency wallets have fewer options than other types of wallets, they are much easier to handle, since you can use them without having to configure different options. In addition, it will save you from having to use several cryptocurrency wallets. However, it can be difficult to choose from the many platforms that have a cryptocurrency wallet. That's why we offer you to discover the advantages of those we consider the best.
What you must remember
Cryptocurrency wallets are especially great for those new to cryptocurrency.
Coinbase, BitBay, and Binance all offer solid exchanges and easy-to-use wallets.
These platforms will allow you to enjoy all the benefits of a wallet without having to spend hours setting it up.
Cryptocurrency wallets FAQs