Everything You Need to Know to be a Perfect Guest Blogger in 2023
How to be the perfect guest blogger?
By the time you read this part, you've probably realized that guest posting/contributing isn't an easy way to gain backlinks. You should be prepared to work your socks off to get published in an authoritative publication.
But, how do you go about creating that "perfect" guest post?
Step 1: Get to know the blog's content and audience
Identify which content performs best on a particular blog and what type of content gets the most traction. Identify the style of other posts, how well they are written and how detailed the posts are.
Step 2: Read the guidelines
How long should the piece be? There is no point writing a 2,000-word article just to find out that the limit is 1,000 words.
Step 3: Pitch your post
Before you proceed with writing the actual article, it's worthwhile pitching an idea first to see whether this would be something they would publish.
When pitching, keep your email short (200 words or less), provide multiple headline variations, give a brief description of the article, a quick bio of yourself (what you do, where else have you been published, achievements, etc.), and a few links to example posts.
Step 4: Draft an article
Make sure your post is formatted according to the style of the blog, including any relevant images (everyone loves images). Usually, blogs would ask you to submit the article in HTML or Markdown format, in which case you should host images on your own website and input the source links.
This should be the easier step of the process, as long as you've picked a topic that you feel passionate about and you have expertise in. You just need to set time aside and start typing.
If you're not comfortable with your writing, it's perfectly fine to hire an editor to review your draft. I'd actually highly recommend it, even for experienced writers. It's always good to have a fresh pair of eyes pick your article apart and make suggestions. Feedback is the breakfast of champions!
Whether you're just getting started or a seasoned writer, here are ten essential recommendations for writing guest posts (and any type of post, for that matter):
Write long-form, compelling content (at least 1,000 words)
Break the text into small, digestible paragraphs
Optimize for on-page SEO
Use original images and graphs to make the content more linkable (Canva is a great tool for novice designers)
Add quotes from friends and influencers
Link to your other published guest posts
Link to your own, relevant content
Link to other publications: studies, data, thought leadership, etc.
Link internally, to other articles from your publisher
Add your byline and explain what makes you an expert on that topic
When you send your final draft to the editor, don't forget to include your author details: your full name, a short bio, your social media links so readers can connect with you, a headshot, and your website.
Now you're all set to hit "send" and deliver your guest post to the editor.
Step 5: Craft a perfect byline (bio)
If you wish your guest blogging to be successful, the way you present yourself may be the determinant factor. Illustrate your expertise and knowledge of the subject, add a link or two back to your website and add any relevant social networks.
Step 6: Revise
Double or even triple-check your article, read it out loud, and give it to a friend or a family member to read. Does it flow well, is it coherent, can an ordinary person understand what you're trying to say?
Step 7: Submit
At this stage, your input is not over yet. An editor may ask you to carry out any necessary amendments.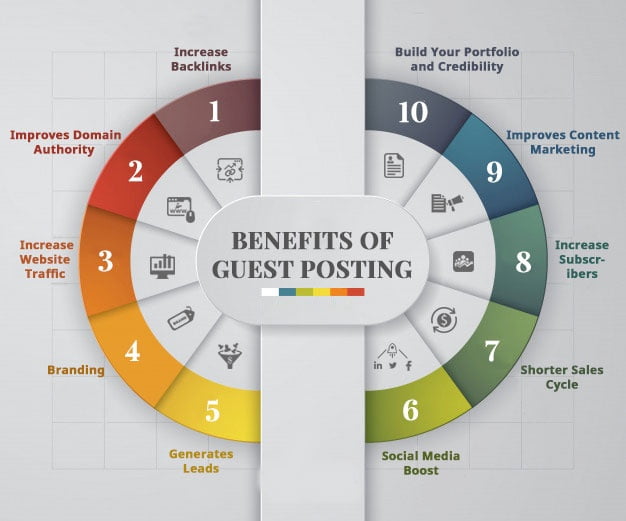 Guest Blogging SEO
Since I mentioned how to prioritize your opportunities based on Domain Authority and Spam score, I think it's important to discuss the SEO aspect of guest blogging.
According to a study by SEMRush, 53% of digital marketing specialists say that guest blogging (or guest posting) is in fact the most effective way to build a backlink profile.
A similar link-building study published by Aira in 2020 showed that guest blogging is the 3rd most effective way to build backlinks — 51% of respondents said they use it.
Guest blogging is such a popular SEO tactic because websites that accept guest posts usually allow authors to link back to their own content or resources, as long as it makes sense for the reader. The link is usually placed in the body of the article, or in the author's bio.
Oftentimes, blog editors place a no-follow tag on links from guest authors. In the past, that was seen as a "lower-value" backlink because it didn't carry any authority. With relatively recent updates, Google has made it public that even "no-follow" backlinks are seen as signals by their ranking algorithm.
Important: Don't try to overdo it with guest blogging for the sake of building backlinks. If you ignore content quality and user experience, you'll most likely end up hurting your SEO performance and ultimately your reputation. Write to educate and entertain your readers and you'll see positive results.